AJ
AJ is a sable and white rough (long coat) collie. He was a puppy when he arrived in New Ulm, but quickly assumed canine responsibitlities for two households. Guarding his homes through the front living room windows continues to be a time consuming duty. Now in advanced obedience training, AJ's favorite games are "fetch teddy bear" and playing "chase" with brother Dallas.
Amanda
Amanda is 8 1/2 years old and was born on Christmas Day, hence her middle name: Amanda Noel. Amanda lives with Sierra and Reba and her family in Elysian, MN. She has been doing therapy dog work for many years and loves to perform. She has had several litters of pups, but has more time for therapy dog work now that she is retired from motherhood.
Bailey
Bailey, like his sister Maddie, is a shitzu/sheltie "designer dog". He has fluffy buff colored fur like a shitzu, but is taller, like a sheltie. Bailey's family lives in New Ulm, MN. Bailey loves to do tricks and has springs for legs! He is king of the weave poles. Bailey recently starred in a production of the musical "Annie" in the role of Sandy (the dog).
Bailey Joe
Bailey Joe is our newest dog to join the group. He's a Yorkshire Terrier with long slilky hair. This little pint size dog that likes to tag along in "Mom's" carrying pouch. Bailey Joe lives in New Ulm and is the perfect lap dog for nursing home visits.

Boomer
Boomer is a 95 pound lab/shepard mix, about 3 years old. He lives just outside New Ulm, MN. He is the fourth baby in a family of pets, one other dog and 2 cats. He loves to chase rabbits, go swimming and have his belly scratched. He is a HUGE baby at heart and loves to be around people.
Buddy
Buddy is a 7 year old yellow lab mix. Buddy's mom takes him to work with her at a local assisted living facility, so Buddy has a real "job." Sometimes Buddy takes all his pals to his worksite and hosts the weekly "dog class" to the entertainment of the residents. Buddy also takes care of his family and lives in Lafayette.
Cleopatra, Queen of the Cobb River
Cleopatra, known to her subjects as "Cleo", is a bassett hound. She was born on July 15, 1999. Her family lives in Good Thunder, MN. Cleo has a super nose and likes to sniff everything. She has been taking "dog classes" since she was a puppy and enjoys playing with her classmates. She has her own mailbox and gets her own fan mail.
Dallas
Dallas is a sable and white rough (long coat) collie. He moved to New Ulm when almost a year old. A retired show dog, Dallas is in obedience and agility training. Running tunnels, playing "chase" with brother AJ, sleeping on his back on the living room couch and barking at rabbits from his back yard porch are favorite activities.

Maddie
Maddie, like her brother Bailey, is a shitzu/sheltie "designer dog". She inherited the sheltie coloring, conformation and herding tendencies. Maddie also lives with her family in New Ulm, MN. Maddie is three years old, has a beautiful plummed tail and likes to show off her singing and dancing ability.

Reba
Reba is a cocker spaniel with a sable coat, which means her fur is tan with black tips, a distinctive color for a cocker spaniel. Reba is five and a half years old and lives with her family in Elysian, MN. Reba has a "cousin", Sierra, who also belongs to the group. Reba loves to go on visits and has a special friend she visits faithfully.

Roger
Roger is a terrier mixture, mostly Boston terrier. Roger was adopted from the Humane Society and flew to Minnesota from California to live with his forever family on a farm near Comfrey, MN. Roger and his "handler" are the first dog/handler team in Minnesota to be certified in animal-assisted crisis and disaster response by Hope Crisis Response, Portland OR.
Shelby
Shelby is a nine year old Brittany. She is partly French Brittany and the rest is American Brittany. Her French ancestors provided her distinctive black and white coat. She is the true "hunting" dog in our group, but these days she can be found hunting smiles. She lives in New Ulm with an American Brittany and her human family.

Sierra
Sierra is also a cocker spaniel, from the same family as Reba. Sierra has silky dark brown fur and is always well groomed because her mom is a groomer. She is 3 years old and is a seasoned therapy dog. She lives with her family in Elysian, MN, where she has a large family of cocker spaniels (and humans, of course).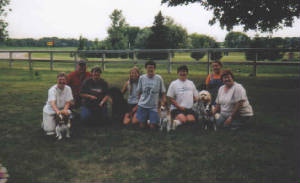 Puppy Love Therapy Dogs, Inc - handler/dog teams
Did you know that Florence Nightingale wrote about the therapeutic value of having a dog?